[Call for Participation!]Cycling and Beni-fuki Tea making Experience Tour in Nakajima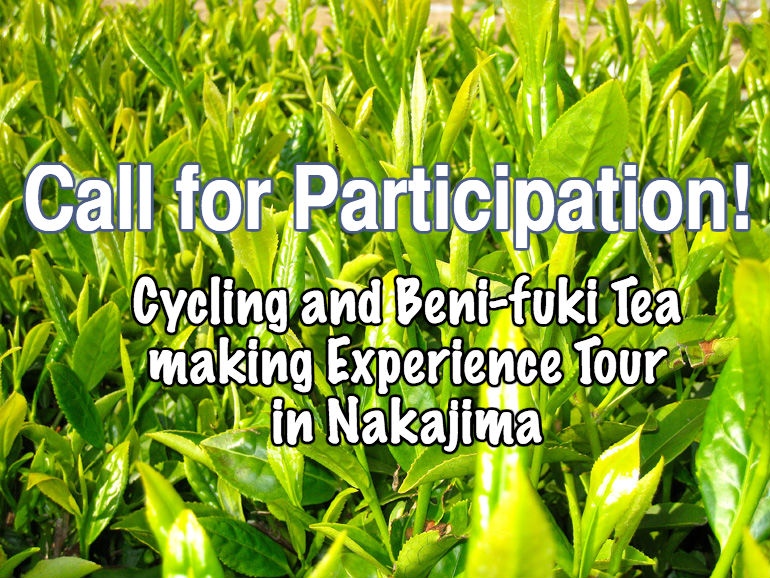 Nakajima island is famous producing district of Japanese Tea, Beni-fuki. You can experience tea making process from tea picking.The tea picking season is divided 3 times. The first is in May, the second is in July, and the third is in September.The taste of Beni-fuki tea changes depending on picking season. You can experience the third period tea making process by this tour.The finished products will be sent for you later as souvenir.
▼tour contents
・Date is 15th September 2016(1 Day trip)
・The number to be accepted is 10 people.(The minimum amount of staff is 5 people )Rain or shine,tour implement
   Tour conductor will go along with you.
・Tour price is 2,000yen for an adult, 1,500yen for a child (including consumption tax)
・A round trip fare by ship,a rental bike free,tea making experience free,and lunch free are including in the tour price.
▼Information
Ishizaki Kisen co.,ltd
Adress: 5-2259-1 Takahama-cho Matsuyama city (In the Matsuyama Sightseeing Port)
Tel: 089-951-0128 (Weekends and holidays are closed.)
▼Schedule
8:30Takahama Port–(Speed craft)
(Speed craft)
9:00 Oura Port (Rent a bike here)
10:30-11:00 Nakajima Awai (Tea plantation) Tea picking experience
11:20 Nakajima Awai( Shiroyama elementary school Gym)
11:30-12:30 Tea leaf crash experience(About 40 minutes)
12:30-14:00 Lunch with dessert
14:05 Nakajima Awai (Shiroyama elementary school Gym)
14:05-14:55  THE BONDS (aid station)
15:10 Konoura Port (Please return bike here)
(ferry)
16:13Takahama Port
▼Details of this tour
・You can taste the Beni-fuki tea, Tempura, and dessert for your lunch.
・You can experience a tea making process from its beginning.
・You can enjoy cycling free. A cycling map is prepared for you.
▼Caution
Please bring a raincoat or an umbrella with you (Do not ride a bike with holding an umbrella)
Trouble like a blowout is your responsibility. There is no cycling shop in the island, so please ask staff in case of your trouble.
The organizer does not take responsibility for your injury or accident during your cycling. So please get insurance by your own in advance.